Ernabella Arts
Ernabella Arts is believed to be the longest continually run Aboriginal art centre in Australia, celebrating its 50th Anniversary in 1998.
Mission statement
Anapala Arts ngura nyangangka Anangu kami tjutangku, ngunytju tjutangku untalpa tjutangku kulu walkatjura palyalkatipai tjanampa culture pulkantjikitjagju Anangu Anapalanyangurara tjuta palya mulapa nyinantjaku.

Ernabella Arts is a place where Pitjantjatjara grandmothers, mothers and daughters practice and develop their art in order to sustain, support and promote their cultural heritage and improve the lifestyle of local community members.

Ernabella Arts Incorporated is an Aboriginal Incorporated Association, located on the Anangu Pitjantjatjara Land (freehold) in the north-west of South Australia. Ernabella is a community of about 400 Pitjantjatjara people, living a relatively traditional lifestyle in the small town and surrounding homelands. It began in 1948, and was incorporated in 1974, firstly as Ernabella and Fregon Arts Inc. and then changing to Ernabella Arts Incorporated in 1975.

The centre acts as a community based artists' association through which artists can sell individual artworks or work on a daily basis. The members and chairperson of the Association are drawn from local practising Pitjantjatjara artists and they employ a co-ordinator to assist in enterprise development. Wages are paid through the Community Development Programme (CDEP) and artists can choose to work in many media.

The underlying design basis comes from the fluid, curvilinear abstract forms derived from the traditional women's practices of Milpatjunanyi (sand-story) and the decorations painted on the body for inma (ceremony). The women consistently refuse to attach specific meanings to these designs, known here as Ernabllaku Walka which occur across the Pitjantjatjara lands, but they do acknowledge that they are indirectly inspired by their natural environment.
(Ernabella Arts Inc)
Weaving at Ernabella
Weaving was introduced at Ernabella in the late 1940s to provide employment for the women.
In the summer of 1948-49 Mrs Bennett… brought a small table-loom. In 4-6 weeks she taught four older women to adapt their spinning technique which was to roll the fibre against the leg, used for the spinning of human hair, to the spinning of wool on the property. Four younger women were taught weaving. The older women collected wool and took it away to their more familiar camp, and the others made floor-rugs in a craft room. Rug weaving gave the Pitjantjatjara women a means of using their beautiful abstract designs. (Hilliard in Cochrane, 1992: 139)
Batik at Ernabella
By the 1970s the people of Ernabella Arts were successful rug weavers and later batik artists. More recently they have become involved in screen-printing.
Leo Brereton, a New York artist, conducted a batik workshop at Ernabella in 1971.
Brereton was appointed to Ernabella for two months, and batik proved popular, not only because it was quicker and more directly satisfying than weaving, but also because it proved to be particularly appropriate for the forms of traditional design. Danish artist, Vivianne Bertelsten also went there in 1975-76, introducing napthol and permanent indigosol dyes and a range of waxes…
(Cochrane, 1992: 243)
In 1975, three artists, Nyukana Baker, Yipati Kuyata and Jillian Davey attended the Batik Research Institute in Jogjakarta, Indonesia to develop their skills. Ernabella Arts Incorporated is now renowned for their batik, in particular the four metre silk lengths produced by the artists.
As the artists became more skilled, and the popularity of batik in other communities increased the artists demonstrated their techniques.
| | |
| --- | --- |
| Textile length, Puti (bush), cotton, screen-printed. Designed by Nyukana Baker and Nyuwara Tapaya 1989/90. Printed by Marie Warren, 1995. 95/319/3. Powerhouse Museum Collection. | Photo: Nyukana and Nyuwara, by Jenni Dudley, 1995. Courtesy: Ernabella Arts. |
Screen-printing was introduced in the early 1990s. Ernabella's artists were commissioned in 1993 to produce furnishing fabrics for clients including:
Uluru National Park offices
Community Aid Abroad
The Underground Motel, Coober Pedy.
More than 2 500 metres of screen-printed fabric was produced.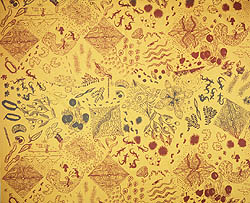 Textile length, Nguratjara (Visions of Home), cotton, screen-printed, designed by about 13 Ernabella artists 1989-1990, printed by Marie Warren in 1995, Ernabella, South Australia. 95/319/1. Powerhouse Museum Collection.
Tiwi Design
Melville and Bathurst Islands are located 80 km north of Darwin across the Dundas Straits. The people living on these islands are the Tiwi people.
The Tiwi people have had contact with visitors since the Macassans (15th and 16th centuries). They have also had contact with Malaysian, Indonesian and Japanese pearlers. Fort Dundas, now Nguiu, was established by the English in 1824 and a Catholic mission was established on Bathurst Island in 1911.
Tiwi art, culture and language are very different to mainland Aboriginal groups. There was traditionally little contact between these two groups. Body adornment and burial poles were the traditional Tiwi art forms. The style was abstract and this can be seen in the work of textile artists, painters and sculptors.
In the 1960s Tiwi artists
…began to produce woodblock prints of totemic images, having learnt the basic techniques at school… Other forms of printing were tried and in 1969 Tiwi Designs was established at Nguiu to produce screen-printed fabrics… The early designs, …were inspired by the environment around them and incorporated fish, bird and lizard motifs. As the designers themselves grew more assured, artists began to draw their inspiration from traditional patterns used in body painting, pukamani poles and bark painting. (Rowley, 1997: 55)
Tiwi Designs is now known as Tiwi Design. The Snake (Taringa) design by Bede Tungutalum (Tiwi Design) has been used in Lenore Dembski's Snake shirt and shorts set.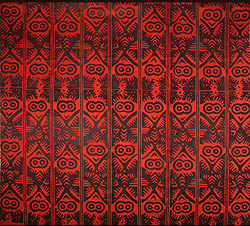 Textile length, Jurrukuni (Owl), black screen-print on rust-red cotton, designed as a border pattern by Giovanni Tipungwuti in 1973, re-developed as an all-over design by Osmond Kantilla 1993. Printed at Tiwi Design, Bathurst Island, Northern Territory in 1996. 96/303/1. Powerhouse Museum Collection.

Arts centres
A number of arts centres have been established on these islands including Jilamara Arts and Crafts Association, a cooperative established in 1986 on Melville Island. Begun as a six-month women's screen-printing program, the organisation was incorporated in 1989. James Bennett, the arts coordinator introduced fibre reactive dyes screen-printed onto silk lengths and scarves.
The centre currently produces screen-printed silk lengths using fibre-reactive dyes, and cotton lengths printed with inks… The association is also starting to license some of its designs to manufacturers and designers within the fashion industry. (Green in Desart, 2000: 84)
Bima Wear
Bima Wear was originally established in 1969, by Sister Eucharia of the Catholic Church Mission on Bathurst Island. The purpose was to make clothing for the locals. In 1975, Bima Wear moved to a larger building and began using the printed textiles made by the men in Tiwi Design. By 1976 fourteen women were producing 300 garments each week. Bima Wear was incorporated in 1978 and over the years has increased its turnover to 17 000 garments per year. Most of the garments were sold in the Top End of Australia. In 1982 screen-printing was introduced and garments were sold direct from the factory showroom.
By the end of the 1980s Bima Wear was a successful business. In 1990 they exhibited hand-painted silks and prints on paper at the Powerhouse Museum, Sydney. Their work also travelled from 1989-90 in the touring exhibition Australian Fashion: The Contemporary Art of Dress. (Desart, 2000: 84)
The fabrics produced at Bima Wear feature the:
…ancient symbols, structures, family and environmental representations which are central to their culture…

The two main artists-screen-printers are Fiona Kerinauia and Theresa Munkanome. They supervise the other women and trainees in artwork, manufacturing of screens and printing.

In 1987 Bima Wear designed and printed the vestments worn by Pope John Paul during his visit to the Northern Territory. (Bima Wear)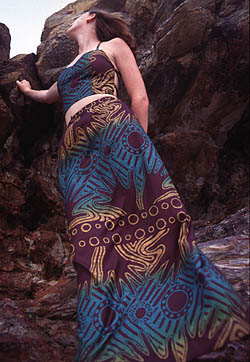 Brown hands, para silk (100% synthetic)
Textile artist: Fiona Kerinauia: Bima Wear (Bathurst Island NT)
Method: hand screen-printed, 1 metre screens
Model: Leanne Mohony
Photographer: Edwina Flershannon
Courtesy: Lenore Dembski

Utopia
A cattle station from 1927, the Utopia homelands in north eastern Central Australia were returned to their traditional Anmatyerr and Alyawarr owners in 1976. The artists live in camps near ceremonial sites on their clan lands.
Like the artists at Ernabella the women artists at Utopia were introduced to batik in the 1970s. Utopia Awely Batik Aboriginal Corporation operated as an artists' cooperative. Their body painting with ochres for the awely, women's ceremonies, are the artistic basis for their designs in batik. As with Ernabella some of the artists visited the Batik Research Institute in Jogjakarta, and had a close connection with Brahma Tirta Sari Studio, a private batik studio there, in the 1990s.
Each Utopia artist develops designs based on their personal animal or plant totem. Mostly a tjanting or canting (a tool used to apply wax to fabric, featuring a copper well with a nib and a handle) and brushes are used. However at times a cap is used, a hand-held copper stamp. The women however prefer to sit and not stand at a table, so the tjanting and brushes are preferred.

Batik and acrylic painting, developed from traditional body and ground paintings, have become important new forms of cultural expression, alongside traditional practices. Art for an external market is also a central part of the local economy and until 2000 was coordinated through the Utopia Awely Batik Aboriginal Association and now the Utopia Cultural Centre.


Cap and tjanting. Courtesy: Julie King.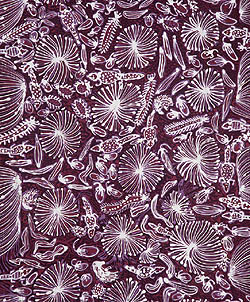 Textile length, silk batik, made by Glory Ngale (from Utopia, Northern Territory), at the Powerhouse Museum, Sydney, 1997. Description: white silk satin, azoic dyes in purple and blue, with bold brush and tjanting designs including Glory's honey grevillea motif (a flower shape with stamens), centipedes, echidnas, lady beetles, lizards, bush raisin, bush yam, bush tobacco (pituri), head lice and grasses. 98/4/1. Powerhouse Museum Collection.
Designed and made by Glory Ngale (Anmatyerr language group) at the Powerhouse Museum in September 1997 as part of a public program during the exhibition of Hot Wax, an exhibition of batiks made by artists from Utopia in Indonesia in 1994. Wax was applied using a tjanting and brush process, with several applications of dye. Designs are based on personal totems of ancestral plants and animals from the Altyerr, the Dreaming, and patterns from body paintings used during their awely, or women's ceremonies.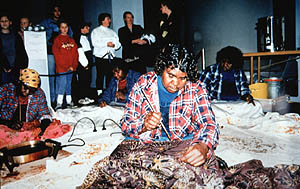 Gladdy and Nora Kemarre and Glory Ngale from Utopia in Central Australia make batik at the Powerhouse Museum as part of the 1997 Festival of the Dreaming. Photo: Grace Cochrane.
Activity
1. Discuss the cross-cultural use of textile production techniques.
2. Identify the advantages of study tours in another country.
Keringke Arts
Located 80 km east of Alice Springs at Santa Teresa or Ltyentye Apurtethe (population 500 Eastern Arrernte people), Keringke Arts was set up as a result of a fabric painting course conducted for twelve women in 1987 by Cait Wait. Keringke Arts specialises in hand-painted silks and clothing.
The majority of Keringke artworks are not accompanied by specific stories, yet artists do draw on a strong traditional narrative for inspiration, structured around age-old motifs, landscape forms, the elements, daily life, food gathering, and the flora and fauna of the local countryside. To the present day, all artists at Keringke Arts have been women.
(Desart, 2000: 83)
Their work was first exhibited in 1988 at the Bicentennial Australian Craft Show (Sydney) and again in 1989. They have continued to exhibit including both solo and group exhibitions.
Desert Designs: Jimmy Pike
Desert Designs is a commercial business which originated in Western Australia in the 1980s. Many of their designs are created by an Aboriginal man, Jimmy Pike, from the Kimberley region. His traditional land is the Walmajarri Great Sandy Desert country. Desert Designs now sells products internationally.
Jimmy Pike's prints and painting… added a new dynamism to the continuing central position of landscape in Australian art. Simultaneously they project a new dimension to connections of place and identity. The artist's work, with its themes of the intimate intricacies of his desert's landscape, the visual character of the changing seasons and the particularities of its Aboriginal spirituality, has transformed this almost invisible and extremely isolated area of the northern part of the continent into a tangible experience and a rare encounter with both its beauty and sacredness. (O'Ferrall, 1995: 7)
Jila, water holes and jilji, rolling sand dunes, are important motifs in Pike's work and are central to the patterning found in Walmajarri art work, for example, body painting.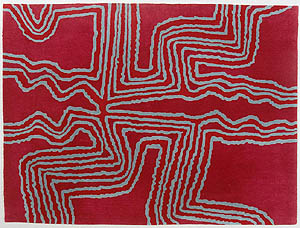 Jilji and Kurrminti rug designed by Jimmy Pike, manufactured in Thailand for Desert Designs 1987. Gift of Gloria and Arthur Bishop 2000. 00/54/1.
Powerhouse Museum Collection.
Jimmy Pike began his life as an artist in Fremantle Prison where he attended art classes taught by Steve Culley, a founder, with David Wroth, of Desert Designs. Pike first worked with texta colour and then acrylic paint and oil pastel. Pike also made black-and-white lino prints which were later made into screen-prints.
The transposition of Pike's work onto textiles first occurred in 1985. Aboriginal textiles with contemporary designs had been pioneered in the 1970s on Bathurst Island by Tiwi Bima Wear and at Ernabella and Utopia with the production of batik textile lengths. The earliest Pike designs selected for transfer onto cotton were chosen for their combination of strong linear character and colour range.

The intention in developing the first line of textiles was to jump over the stereotypical "craft-based" association of individual design and textiles. Instead, Culley and Wroth wanted to generate a product that would fully interface with the professional commercial world of contemporary design and fashion without losing the essence of Jimmy Pike's creativity and its Aboriginal cultural integrity. They used local fashion designer Lon Riley and seamstress Nina Boydelle to prepare suitable patterns for their first small range of fashion garments which they sold through individual boutiques around Perth. (O'Ferrall, 1995: 12)
Desert Designs
…were introduced to the commercial design licensing process and J.H. Byers' fashion company. After seeing their concept storyboards and Fremantle-produced clothing, Byers expressed interest in licensing specific designs for a range of children's wear and women's fashion, with the first release occurring in the summer of 1986/87. (O'Ferrall, 1995:12)
Licensing agreements were also established with Oroton and Sheridan allowing Desert Designs access to a national market.
Jimmy Pike was released from prison in 1986. Culley and Wroth discussed with him strategies to allow him to work full-time as a painter.
In 1987 a Jimmy Pike: Desert Designs exhibition was held in the Seibu store in Japan. The exhibition travelled around Japan for six months. A second tour was organised in 1989 and designs were licensed for a range of ski wear and beach wear. Desert Designs opened stores in the mid- to late- 1980s in Sydney, Surfers Paradise and Fremantle.
In 1988 women's clothing produced by J. H. Byers' company won the New Talent category of the Bicentennial Fashion Awards. 1989 saw the opening of a European office and new marketing directions. Further licenses were negotiated in 1991 and 1992. A Desert Designs gallery shop was opened in France (1991-93).
Activity
Draw a timeline to show the development of Desert Designs.
Bronwyn Bancroft
Bronwyn Bancroft is one of the most successful Aboriginal artists and designers. Her work includes artwork and textiles for fashion and furnishings. Bronwyn Bancroft is from the Banjulung nation of northern NSW and was born in Tenterfield in 1958. Her art training took place at the Canberra School of Arts. Her work reflects a contemporary perspective on the family, politics and the natural environment.
In Aboriginal tradition, the Rainbow Serpent is the creator. Meanderland shows the serpent surging through the land, creating and nurturing the elements of life. Aboriginal people have a strong link with the land because they are responsible for it. (Bancroft)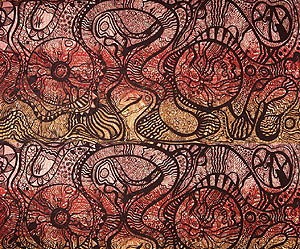 Meanderland textile by Bronwyn Bancroft
Screen-printed cotton fabric, 1993. 94/19/1.
Powerhouse Museum Collection.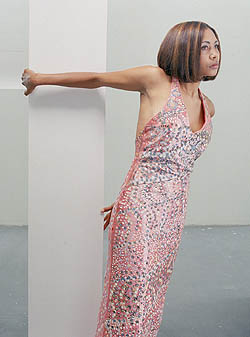 Serpent dress designed by Bronwyn Bancroft. Modelled by Anthea Carter.
Hand-painted Lycra, 1987. 94/120/5
Photo: Anthea Carter.
Powerhouse Museum Collection.
Designer Aboriginals
Bronwyn ran a successful company, Designer Aboriginals, in Rozelle, Sydney, from 1985 to 1990, where she sold printed and hand-painted fabrics, clothing and jewellery.
Recognition of her talents in the high-fashion arena came when she and four other Koori designers were invited to parade their garments at the prestigious department store Au Printemps in Paris in 1987.

Her original designs have also featured in the Powerhouse Museum's exhibition The Contemporary Art of Dress, which travelled to the Victoria and Albert Museum in London in 1988. (Cochrane Simons, 1991)
The opera cape below was paraded at the Paris department store Printemps in the Fashion Extravaganza organised by the Aboriginal Medical Service in 1987. The figures on the front and the lizard on the back, represent the journey through life of an Aboriginal man and woman.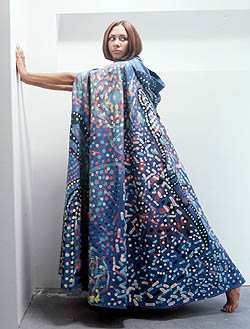 Cycle of life opera cape designed by Bronwyn Bancroft. Modelled by Anthea Carter.
Cotton drill, handpainted, 1987. 94/120/2. Powerhouse Museum Collection. Photo: Bronwyn Bancroft. Photo: courtesy IBM.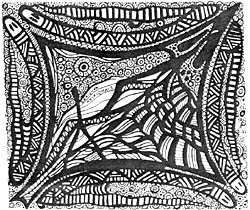 Snake escape
Snake escape is based on the concept, some might say the illusion, of freedom. The snakes are escaping along their own paths but are always, paradoxically, moving in a circle, to end up where they began.
The design is also a positive affirmation of life, celebrating in its circular forms, the ongoing quality of all the elements of existence. Courtesy: Bronwyn Bancroft.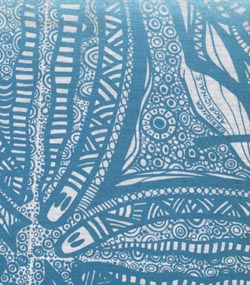 Snake escape
The snake escape motif is printed in a repeat pattern. Courtesy: Bronwyn Bancroft.
Community involvement
Bronwyn has always been actively involved with her community. She chaired the National Indigenous Arts Advocacy Association (NIAAA) for three years and has consulted on and organised many projects.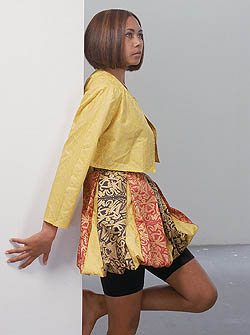 Land rights outfit designed by Bronwyn Bancroft. Modelled by Anthea Carter.
Made from screen-printed polyester taffeta, 1987. 94/120/. Powerhouse Museum Collection.
This outfit is a powerful statement of Aboriginal identity featuring the colours of the Aboriginal flag and an Aboriginal paisley print. Bronwyn developed this print as a satirical comment on the long history of the European paisley, itself drawn from the Indian boteh design.
Bronwyn as artist
Bronwyn is a prolific artist, initially designing textiles and fashion. More recently she has had great success with painting, graphic design commissions and exhibitions in many countries.
In 1991 she was granted a fellowship by the Aboriginal Arts Board of the Australia Council. Major artworks have been purchased by the Australian National Gallery and other public and private collections.

She has exhibited in two-person shows with Sally Morgan and with Jimmy Pike, and had a successful solo exhibition in Canberra earlier this year. (Cochrane Simons, 1991)
Her Sydney exhibition, The great Australian amnesia, conveyed a powerful message that Aboriginal culture is alive and well.
In 1995 Bronwyn Bancroft painted Jeans for Genes Day jeans for Cathy Freeman to autograph.
I am painting Cathy Freeman's jeans to indicate the essence of strength and power that Cathy encapsulates. The imagery is of snakes and lizards moving really quickly across the Australian terrain. Just as Cathy does, not only in Australia but on the world stage. I have also painted a rainbow background to show the optimism that Cathy emanates for all the Aboriginal people. (Bancroft, 1995: 30)
Journey of a nation
Bronwyn was also the designer for the opening of the Journey of a nation Federation parade in Sydney in January 2001. The section acknowledged the Aboriginal and Torres Strait Islander population and the language groups of the NSW region.
Tobwabba Art

Tobwabba Art is 100% Aboriginal community owned.


Courtesy: Tobwabba Art
The urban coastal Aboriginal art and design is the subject of an extensive commercial licensing program aimed at the tourist, souvenir and general giftware markets in Australia and overseas.

Tobwabba Art tells the story of the Worimi people from the Great Lakes region of New South Wales. Before contact with white settlers nearly 200 years ago, the Worimi extended from Port Stephens in the south to Forster-Tuncurry in the north and as far west as Gloucester.

Tobwabba means a place of clay and refers to a hill near Forster, on which the descendants now have their homes at a mission called Cabarita. Tobwabba Art is a business enterprise developed for, and with, the artists, by their own local land council.

The people now number less than 200, and from these families, in the main, come the 20 Tobwabba artists. In their work, they express their own life and what they imagine the life of their ancestors to have been.

Artwork is specially developed by the artists for each licensed product. Product packaging, labels and swing tags prominently display Authentic Australian Art.

Royalties from the sale of all licensed products go to the artists and benefit the Worimi community.
(Tobwabba Art Product Catalogue)

The Worimi is made up of several clans: The Buraigal, the Gamipingal and the Garawerrigal.
The people of the Wallis Lake area, called Wallamba, had one central camp site which was the place now known as Coomba Park. Their descendants, still living today, used this camp site till 1843.

The Wallamba had possibly up to 500 members before white contact was made. The middens around the Wallis Lake area suggest they had ample food and ate whelk, pipi, oyster, crab, cockles, venus shell and prawns as well as many varieties of fish, yams and occasionally wallabies, kangaroos, echidnas, waterfowl and fruit bats.

Fire was an important feature of their life, both for their campsites and the periodic 'burning' of the land.
(Tobwabba Art Product Catalogue)
| | |
| --- | --- |
| Photo: Geoff Tull. Courtesy: Tobwabba Art | |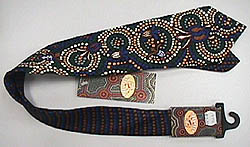 Courtesy: Tobwabba Art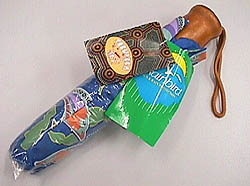 Courtesy: Tobwabba Art
Activity
Take a tour of Tobwabba Art www.tobwabba.com.au
To start visit:
Sorbie Collections
Lisa Sorbie Martin is of Torres Strait Islander heritage from the mid western island called Moa and the island of Mer known as Murray Island. Lisa was named after her grandmother Mary Sorbie Ware of Murray Island (Mer). Sorbie is a traditional Mer name meaning wild water cherry.
She has been designing textiles since 1998. Her work is a mixture of silk batik and hand-painted textiles and more recently she has been designing evening gowns and casual street wear. The designs of her work are influenced by her Torres Strait Islander heritage, beginning with the design on the textile through to the design of the garment. The entire outfit tells a story of the Torres Strait.
The impressionistic wedding dresses were featured in fashion parades called Fashion the Indigenous Way, which highlighted Indigenous fashion designers, textile artists and models in the lead up to the opening of the Sydney 2000 Olympic Games at the Sydney Media Centre and the Powerhouse Museum.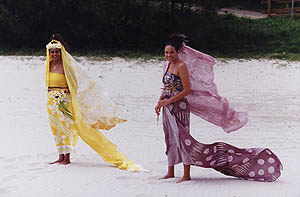 Lisa and daughter with impressionistic wedding dresses. Courtesy: Lisa Sorbie Martin: Sorbie Collections.


Sorbie has exhibited her work extensively throughout Australia and recently won the Indigenous category at the Taree Flair Fashion Awards in July 2001. She was also one of ten designers selected as finalists representing Queensland in the Mercedes Benz Fashion Start Up program in October 2001.

She states:
The art that I produce is a reflection of myself. This expression has many attributes stemming from my lifestyle, ideas, experiences, passions, beliefs, environment, my culture and my heritage.
As a Torres Strait Islander artist these attributes flow throughout my artwork, showing a reflection of my culture with all its richness and culture.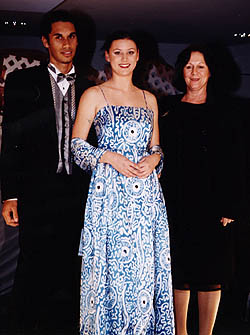 Evening dress: The design represents silver bream fish. The blue background represents water and the sequins represent the scales of the fish. At the back is flowing blue chiffon with sequins at the bottom, again representing the flowing water and fish scales. Courtesy: Lisa Sorbie Martin: Sorbie Collections.
Activity
Draw a chart like the one below to compare and contrast five of the Aboriginal and Torres Strait Islander designers outlined.

| | | | |
| --- | --- | --- | --- |
| Designer | Sources of inspiration | Traditional influences | Contemporary influences |
| | | | |
Summarise the similarities and differences between these designers.
For more information on contemporary Aboriginal and Torres Strait Islander textiles:
Desart (2000) Putting in the colour, Contemporary Aboriginal textiles, Jukurpa Books, Alice Springs, iadpress@ozemail.com.au or PO Box 2531 ALICE SPRINGS NT 0871.