After the Manchu-Qing* rulers seized control of China in 1644, they moved quickly to assert authority over the dominant Han Chinese population and established a dress code. Regulations codified dress for the imperial family, the Qing court and court officials, distinguishing the ruling elite and government from the general population. Women dressed according to the rank of their husbands.
* The Manchu were nomadic people, ethnically distinct from the majority Han population who had ruled during the preceding Ming Dynasty. See Timeline of dynasties for an overview of Chinese history.
Timeline of dynasties
| | |
| --- | --- |
| 1368-1644 | Ming |
| 1644-1911 | Qing (pronounced Ch'ing) |
| 1911-1949 | Republic of China |
| 1949- | People's Republic of China |
Court robes
The ornamentation of formal (chaofu) and semi-formal (jifu) court robes included the dragon motif together with a decorative representation of the Chinese conception of the cosmos. The dragon symbolised the emperor, known as the Son of Heaven, and permission to wear the robe was given by him. Those who passed the civil service examinations and attained the status of a government official were also granted the privilege of wearing court robes. Rank was further distinguished by a hierarchy of colour and ornamentation.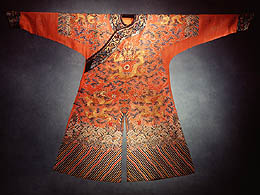 Apricot-yellow semi-formal dragon robe (jifu), silk and gold-wrapped thread embroidery on gauze weave silk, made in China in the 1800s. Powerhouse Museum collection. Purchased with funds given by Ken and Yasuko Myer, 1989. Photo by Penelope Clay.
The twelve symbols of sovereignty
Probably as early as the Zhou dynasty (11th-3rd century BC), the twelve Chinese symbols of sovereignty appeared on the sacrificial robes of the Son of Heaven… In 1759 the twelve symbols were reserved exclusively for the robes of the Son of Heaven. As a symbolic interpretation of the universe, these symbols of imperial authority assumed a cosmic significance and represented the emperor as the ruler of the universe.
(Pang, 1989: 38)
Name of symbol

Symbol

Description
Sun
Represented by a red disc with a three-legged crow.
Moon
Represented by a light blue or green disc enclosing the legendary hare pounding the elixir of immortality.
Three stars
Constellation of three stars.
Mountains
Symbols of stability and the earth.
Dragons
Symbolise adaptability because of the transformations they can perform.
Pheasant
Symbol of literary refinement. The dragon and pheasant represent the natural world.
Pair of bronze sacrificial cups
Symbolise respect for one's parents. One cup has a tiger (physical strength), the other a monkey (cleverness).
Waterweed
Represents purity.
Grain
Represents the country's capacity to feed its people.
Fire

Represents intellectual brilliance.

The mountains plus the last four symbols represent the five elements of the universe. Earth (mountains); metal (cups); water (waterweed); wood (grain); fire (fire).

Axe
Represents the power to punish.
Fu
Represents the power to judge.
Adapted from (Pang, 1989: 39) Courtesy: National Gallery of Victoria.

Activity
1. Print out the twelve symbols of sovereignty and colour where indicated. Look carefully at the formal court robes presented and try to identify any of the symbols.
2. Draw a medallion for a court robe you have been asked to design for a Chinese official from the Qing dynasty in a play.
Surcoats
Surcoats worn by the imperial family displayed round dragon medallions. The emperor also granted the privilege of wearing these medallions to certain individuals. In contrast, civil and military officials displayed square court insignia badges with the appropriate bird or animal identifying their rank.
In Chinese cosmology a circle represents heaven and a square represents earth. The dragon symbolises the emperor, who was regarded as the Son of Heaven.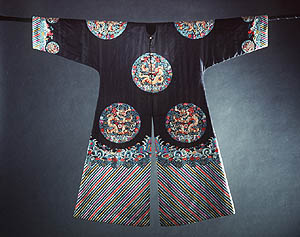 Woman's surcoat (longgua): This surcoat was worn over a semi-formal dragon robe (jifu) by a court concubine or noblewoman. It is ornamented with dragon medallions which also contain auspicious symbols of clouds, Buddhist swastikas, and bats symbolising happiness. Tossed in the waves of the sea are Buddhist symbols such as the canopy, wheel of law and endless knot.
* Silk and gold-wrapped metal thread on silk satin, made in the early 1900s. Powerhouse Museum collection. Gift of Mr and Mrs Mikulicic-Rodd 1971. A5918.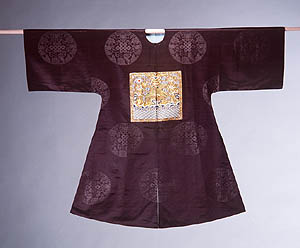 Civil official's surcoat: This man's surcoat (bufu) has two court insignia badges, front and back. They are embroidered with a golden pheasant which represents a second-rank civil official of the Qing dynasty. To become a civil official it was necessary to pass a series of rigorous imperial examinations. Rank was therefore a sign of accomplishment and status. There were nine grades of civil official (with one being the most senior), represented by bird motifs. * Silk and gold-wrapped thread embroidery, damask-weave silk-satin, made in China in the late 1800s. Private collection. Australia, Photo by Penelope Clay.
Formal court dress
The emperor and court officials wore formal dress (chaofu) at the most solemn state ceremonies such as accession to the throne, imperial weddings, birthdays, New Year, winter solstice and sacrifices to heaven and earth. It was generally worn with a ceremonial collar (piling).
The style was appropriated from Ming court dress, with the addition of the distinctive Manchu horse-hoof cuffs, plain cloth insertions at the sleeves and the collar.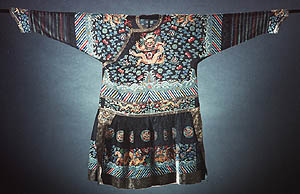 Formal court robe (chaofu): This lightweight summer robe is made from gauze-weave silk and would have been worn by a Qing dynasty official on formal occasions. It is embroidered with a traditional design of dragons, representing the emperor or Son of Heaven, clouds, the Isles of the Immortals, crested waves and deep water which together reflected the Chinese conception of the cosmos. * Silk, embroidered with silk and metallic thread, made in China during the late 1800s to early 1900s. Powerhouse Museum collection. Purchased 1955. A4564-1.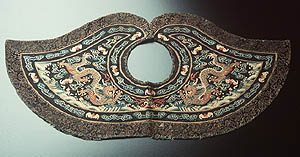 Ceremonial collar (piling): This collar was a sign of honour. It was worn with a formal Qing court robe (chaofu), surcoat, hat and court beads. It fastened at the neck and spread out across the shoulders. The right to wear the collar was granted by the emperor. * Silk and metal-thread tapestry-weave (kesi), silk and gold-wrapped thread brocade, made in China in the 1800s. Powerhouse Museum collection.
Gift of Miss B Shaw 1976. A6464.
Summer and winter robes
Court clothing was divided into summer and winter dress. Summer robes were made of gauze or lined with silk and winter robes were padded with silk, or trimmed or lined with fur.
The emperor's formal winter court dress was further divided into two forms. One was worn from the beginning of the 11th lunar month until the 15th day of the first lunar month. The other was worn from the 15th or the 25th of the ninth lunar month until the first day of the 11th lunar month. The date of seasonal change of dress was decided by the Board of Rites and was issued as an imperial edict.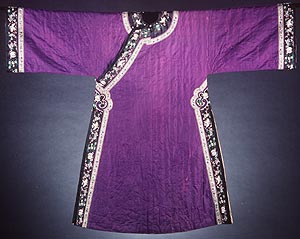 Manchu woman's winter robe: This informal robe (changyi) is padded with silk wadding for warmth. The imperial capital in Peking is in the far north of China and during winter temperatures can drop to minus 20 degrees Celsius.
The purple silk has a damask-weave design of dragon medallions and the sleeves are lined with cream-silk sleeve bands embroidered in polychrome floss silk with flowers and butterflies. These were visible when the elbow was bent. * Silk with floss-silk embroidery, made in China during the late 1800s. Powerhouse Museum collection.
Gift of Mrs C R Thornett 1967. H8187.
Manchu women's informal dress
Manchu women's informal wear comprised two styles of long robe known as changyi and chenyi, which came into vogue during the reign of the Qianlong Emperor (1736-95). Both robes were worn with a long neck ribbon.
The chenyi featured a round neck and a panel crossing from left to right, fastening at the side with five buttons and loops. It had a relatively straight body and full sleeves. The changyi differed in that it had splits up each side of the robe allowing facility of movement. The splits were often highlighted by decorative borders.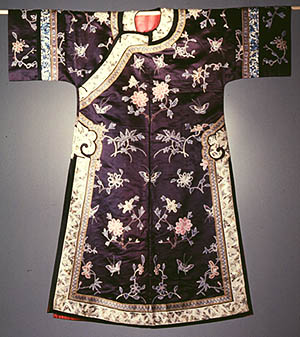 Floral pattern robe: This informal Manchu woman's robe or changyi is embroidered with a design of seasonal flowers and butterflies. The butterfly is a symbol of summer, joy and happiness in marriage. The motifs are embroidered in Peking-knot stitch, a time consuming and exacting embroidery technique. The subtle palette of colours used in the embroidery harmonises beautifully with the slate-grey ground. * Silk-satin with silk embroidery, made in China during the late 1800s. Powerhouse Museum collection. Purchased with funds donated by Preston and Mary Saywell 1989. 89/497.
Activity
Identify two motifs used in formal court clothing. Explain their meaning and draw a stylised version that may be used on contemporary apparel.
Hats
Regulations governing court dress also included head wear. Court officials' semi-formal hats were principally distinguished by whether they were summer or winter styles. Winter hats generally comprised a black skull cap with upturned fur brim and summer hats were a conical shape woven from strips of bamboo and edged with silk brocade. The crowns of both hats were covered with a red-twined or floss-silk fringe and topped by a knob indicating the official's rank.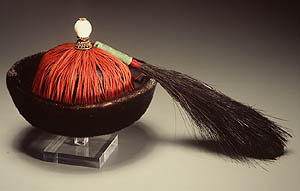 Official's winter hat: The knob indicates that the wearer was a sixth-rank official. Black silk satin with fur brim, made in China in the late 1800s. Powerhouse Museum collection. Gift of Mrs G W Biashicoff 1954. A4488

Peacock feather hat attachment (hualing): These plumes were a special distinction conferred by the emperor. A single-eye plume was conferred upon nobles and officials down to the sixth-rank. Made in China in the late 1800s. Powerhouse Museum collection. Gift of Mrs R D Conacher 1966. H7958
Foot binding
The practice of foot binding was followed by most Han Chinese women during the Qing dynasty (but not by Manchu women). By restricting movement, bound feet deterred women from leaving home and husband and encouraged a compliant fidelity.
Bound feet were also a sign of beauty and refinement which enhanced the prospect of marriage. The swaying walk of a woman with bound feet was considered particularly alluring.
Activity
Choose one of the following:
1. Write an argument about foot binding.
2. Compare foot binding to modern day mutilation such as piercing or tattoos.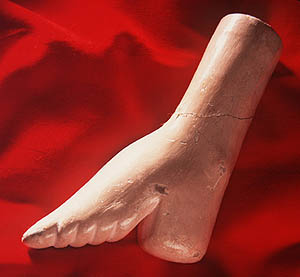 Model: of the foot of a 15-year-old female patient at a hospital in Canton, made from a cast taken by T G Fawcett in 1874. Powerhouse Museum collection. Gift of A Fawcett 1897, H1818.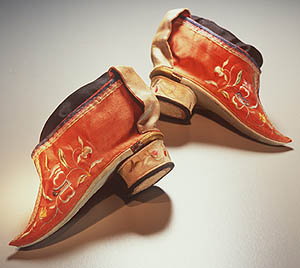 Bound feet shoes: cloth heel and embroidered silk uppers, made in China about 1850. Powerhouse Museum collection. Gift of M Horn 1957, H5631.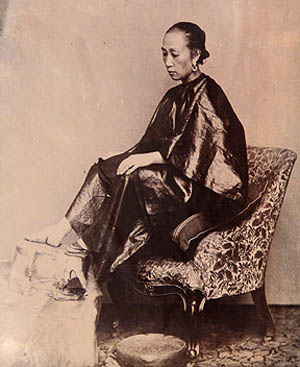 Image: woman with bound feet, Southern China, about 1880. Powerhouse Museum collection. 96/66/1.
Ankle bindings (tuidai)
Girls' feet were bound when they were as young as three. A long binding cloth was wrapped around the foot with the aim of forcing the four small toes under the foot and bringing the front of the foot and the heel together. It was extremely painful. Socks and then shoes were worn on top of the bindings.

Activity
1. Using illustrations in your response describe the effect of the Qing dynasty on:

fabric decoration
weaving
garment styles
accessories. (200 words for each)



2.Explain how clothing was influenced by:

religion
rank
seasons. (150 words each)


Decorative ankle bindings such as these, also known as puttees, held the shoes, socks and trouser legs in place. * Silk, made in China in the late 1800s to early 1900s. Powerhouse Museum collection. Powerhouse Museum collection. Gift of Miss E A MacDonald 1971. A5963-1:2