The open-door policy: experimentation with dress
The death of Mao Zedong on 9 September 1976 ended an era and led to the arrest of Mao's wife Jiang Qing and other members of the Gang of Four who rose to prominence during the Cultural Revolution.
The open-door policy and economic reforms which followed, created an environment in which people were receptive to the outside world and eager to make up for the 10 lost years of the Cultural Revolution. Dress was one of the first areas where attitudes were relaxed. Women began to wear coloured and patterned clothing, and accessories were emblazoned with English words such as 'happy' or 'beautiful' rather than 'serve the people'. Clothing which appeared foreign was perceived as modern.
The 1980s was a period of unprecedented experimentation with dress style. China's first fashion magazine Shizhuang (Fashion) was published in Peking in 1979. Since then such magazines have become popular reflecting the huge interest in personal appearance, beauty and consumer culture.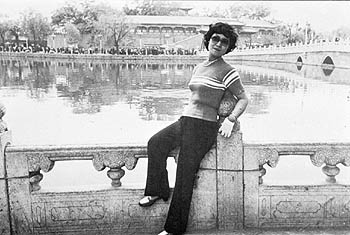 Woman wearing body-hugging knitted top, white gloves and sunglasses, early 1980s.
Contemporary fashion: mainland China
The contemporary fashion world in mainland China is vast, complex and there are many players. Most garments are produced by large state-run corporations and joint-venture companies established with overseas capital. Much design is therefore anonymous.
However, a growing number of designers have established their own labels and work independently. Many of them are young and entrepreneurial with a clearly identified market. They sell direct to customers or through up-market department stores.
Government agencies have played an active role in developing China's fashion industry. The China Garment Designers' Association has promoted the work of young designers since its inception in 1993. It organises fashion events such as the Golden Scissors Award for functional wear and the Japanese-sponsored Brother Cup for fashion designers under 35 which emphasises creativity over functionality. In 1996 the China Famous Brand Name Development Company was established to spearhead China's ambitions to create ten world-famous fashion labels by the year 2000.
Designers from mainland China
Sun Jian
Sun Jian (born 1967) taught fashion design for a number of years before being appointed chief designer of Aidekang (Ideal Couture Fashion Company Limited), a Beijing-based Chinese-German joint-venture, in 1989. In 1992 after working as chief designer for a number of other organisations Sun Jian established her own company and label, Sun Jian Fashion Studio. She has a growing clientele and her designs are worn by many young actors, pop stars and television personalities.
Sun Jian also has a popular image design business, advising clients on personal style, including hair, make-up, clothing and accessories. Clients often order two or three made-to-measure outfits. On average Sun Jian re-styles eight women per week.

Sun Jian. Photo courtesy: Duan Heping.


Tailored evening dress: this cheungsam-inspired dress is made from a nylon-cotton knit ornamented with Austrian crystal diamantes. Photo by Li Xiaomu. Courtesy: Overseas Chinese News.

These ensembles were first paraded at Fashion Week in Beijing in April 1996. They are from a collection titled Approaching 1997.

Similar ensembles are held in the Powerhouse Museum collection. Gift of Sun Jian.


Trouser-suit: comprises a jacket with Chinese stand collar. The design of the jacket is inspired by an early form of the Sun Yat-sen suit. Photo by Duan Heping.
Guo Pei
Guo Pei (born 1967) worked for a number of fashion companies before becoming chief designer for the newly established Tianma (Heavenly Horse) Clothing Company, Peking, in 1989, which quickly became one of China's most popular womens labels. During Guo's six-year employment, 250 of her garments were produced, totalling some 400 000 items. In 1995 Guo Pei moved to the Milano Fashion Company Limited, a Taiwanese-American joint venture. While working with Milano, Guo Pei continued to design her own independent collections. In 1996 she resigned and established her own company Meiguifang (Mayflower) and in 1997 was named one of China's top ten designers.
| | | |
| --- | --- | --- |
| Guo Pei. Photo courtesy: Li Mingfang. | | Woollen hipster shorts worn with a long-sleeved woollen jumper. Photo by Li Xiaomu. Courtesy: Overseas Chinese News. |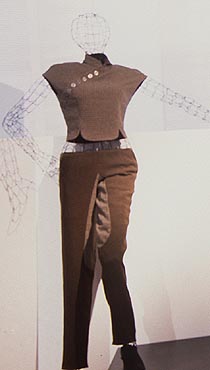 Green hipster trousers: with a matching Chinese-style side-fastening top. Guo Pei has modified the traditional stand collar so that one side is turned down in a Western manner. Photo by Penelope Clay. Powerhouse Museum collection 2001/123/2
These ensembles were first paraded at Fashion Week in Peking in April 1996. They are from a collection titled Approaching 1997, which also included brightly coloured sensible suits for working women. Similar ensembles are held in the collection of the Powerhouse Museum. Gift of Guo Pei.
Mao's new suit
Mao's new suit, is an Australian documentary which charts the course of Peking fashion designers Sun Jian and Guo Pei staging a show during Shanghai's annual fashion week.
Both designers were born during the Cultural Revolution - a time when most women wore blue and grey trouser suits. To look fashionable was a sign of spiritual corruption and bourgeois tendencies. Today, armed with mobile phones and ambitious humour, they are a symbol of modern China's "to get rich is glorious" generation.
Contemporary fashion: Hong Kong
The Western-style tailoring for which Hong Kong is renowned is linked to the territory's colonial past. British merchants established the basis for a textile industry soon after Hong Kong came under British rule in 1841.
The Hong Kong Trade Development Council was formed in 1966 to promote exports. As clothing and textiles were the major export, a core function of the council was to promote Hong Kong as an international fashion centre. By the 1970s it had become the manufacturing base for Levi Strauss jeans and many other famous international labels.
Today Hong Kong designers promote their collections at the biannual Hong Kong Fashion Week and at parades organised by the Hong Kong Fashion Designers' Association. It is through these high-fashion collections that designers seek to position themselves on the world stage. With the transition to Chinese sovereignty on 1 July 1997, Hong Kong has maintained its role as an important fashion centre. A number of designers used this historic event as a source of inspiration for their collections.
Designers from Hong Kong
Peter Lau
Peter Lau (born 1955) has worked in the fashion industry for over 20 years. In the mid-1970s he worked for knitwear and denim manufacturers and from 1975 to 1979 he studied textile technology at the Hong Kong Polytechnic. Lau established his own business in 1982 and in 1990 launched a label for special occasion wear, XCVIII Ninety-Eight. He has since launched a second label, China Doll, targeting teenagers. His primary markets are in Hong Kong, Taiwan and Japan.
Lau's garments have a playful, often raunchy interpretation of a Chinese folk aesthetic. Using vivid colours, patterns and textures many of his garments play on fantasies of the Oriental woman.
| | | |
| --- | --- | --- |
| Peter Lau. Photo courtesy: Timothy Leung. | | Neo-punk in China ensemble: Comprising a paper nylon top with wool collar and a polyester satin skirt, screenprinted with a yellow star design evocative of the Chinese flag. Autumn-Winter 1996-97 collection. Photo by Anat Givon/AAP. 2002/21/1. |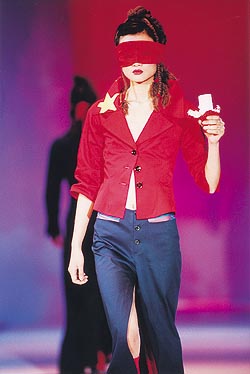 Winter under the Red Flag ensemble: The cotton gaberdine trousers fasten at the inner leg and crotch. Autumn-Winter 1997-98 collection. Photo courtesy: Hong Kong Trade Development Council. Similar ensembles are held in the Powerhouse Museum collection. Gift of Peter Lau.

William Tang
In addition to designing clothes, William Tang (born 1959) is also a television presenter and writes for the press. He studied economics in Canada and fashion design at the London College of Fashion before returning to Hong Kong in 1982. He worked for a number of international labels before establishing his own company in 1985.
Tang has undertaken corporate-image and uniform design for clients such as Dragon Air and the new Hong Kong airport. His innovation and daring has earned him a reputation as an enfant terrible of the Hong Kong fashion world. Tang designs for men and women under the labels William Tang, W by William and the new teenage unisex label W10.

William Tang. Courtesy: William Tang.

Womens ensemble: Comprising a Chinese-style top, trousers, and coat made of polyamide with fake fur shoulder bag and gauze cap ornamented with a recycled plastic toy aeroplane. Photo by Henry Ng. Courtesy: William Tang.

Similar ensembles are held in the Powerhouse Museum collection. Gift of William Tang.
Contemporary fashion: Taiwan
Since the 1970s individual designers have formed their own companies and significantly raised the profile of the local Taiwanese fashion industry. Lu Fong-chih and Wang Chen Tsai-hsieh are two influential designers who established their own labels in 1978 and 1982 respectively. They are regarded as the first generation of Taiwanese fashion designers.
In recent years many young Taiwanese designers - some of whom have returned from studying overseas - have sought to create garments with an individual style. Some blend elements of Eastern and Western dress traditions, which is in part, a reaction to the prevalence and popularity of Western designer labels in Taiwan.
The Taiwan Taipei Fashion Designers' Association was formed in 1990 to elevate the standard of fashion design and increase international competitiveness in textiles and clothing. In 1993 it sponsored the first of the biannual Taipei Collection fashion shows, which have since become a major showcase for local designers. These parades include designer collections, young designer awards and the Taiwan Textile Design Show, in which designers work together with local textile manufacturers.
Carole Chang
Carole Chang (Zhang Yiping) was born in 1969 and studied fashion in Lyon, France at the Ecole Bellecour Supemod from 1990 to 1992. She established her own label in Taiwan in 1995 for women of her age, and soon after opened a boutique called Hot Ice.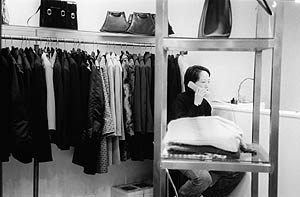 Carole Chang. Photo courtesy: Claire Roberts.
Chang's designs are austere, even slightly masculine, emphasising a long line rather than a curvaceous form. She believes clothes should express the personality not create a character. Chang is critical of many Taiwanese women who hide behind international designer-label fashion, but is nevertheless optimistic about the future of Taiwanese fashion.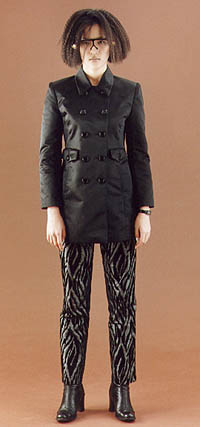 Cotton-drill jacket: Inspired by military dress, the Sun Yat-sen suit in particular. It is teamed with silk brocade trousers, black leather shoes and spectacle frames which have battery-powered side lights. Photo courtesy: Carole Chang.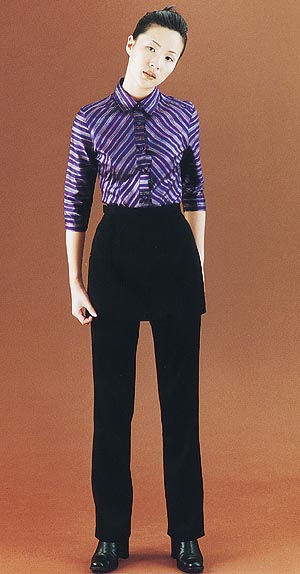 Purple striped shirt: Made of raw silk, worn with woollen trousers, a polyester satin overskirt and leather shoes. These ensembles are from Chang's Autumn-Winter 1996-97 collection. Photo courtesy: Carole Chang.

Similar ensembles are held in the collection of the Powerhouse Museum. Gift of Carole Chang.

Stephane Dou Teng-hwang
Stephane Dou Teng-hwang was born in 1969 and graduated from fashion design school in Taiwan in 1991. He was employed in the fashion industry for a number of years before establishing his own label in 1996: Stephane Dou.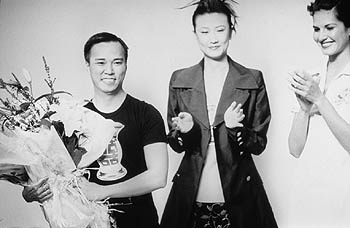 Photo of Stephane Dou Teng-hwang and Chang Lee Yu-gin. Courtesy: Taiwan Textile Federation.
He has won a number of awards including the Taiwan Smirnoff Fashion Award in the year of his graduation. On two occasions he represented Taiwan in the International Youth Fashion competition in Paris, and in 1995 he participated in an exhibition of Taiwanese fashion at the Peking International Fashion Fair. His contribution to the Autumn-Winter '96-'97 Textile Design Show was the result of collaboration with his partner, Chang Lee Yu-gin, and the textile manufacturer Ta Ching Hwa Enterprise Company.
Red and hot-pink polyamide ensemble designed by Stephane Dou Teng-hwang and Chang Lee Yu-gin in association with Ta Ching Hwa Enterprise Co Ltd, Taipei, Taipei collection parade Autumn-Winter '96-'97. The theme of Dou and Chang's parade was inspired by the return of Hong Kong to Chinese rule in 1997. Dress and wrap skirt (left) tunic and pants (right): The striking colour, layering and cut of these ensembles are evocative of aspects of Chinese culture. The designer's aim is to bring together tradition and the avant-garde, East and West. Photo by Mai Hsien-yun. Courtesy: Taiwan Textile Federation.
Similar ensembles are held in the collection of the Powerhouse Museum. Gift of Stephane Dou Teng-hwang.