The Superbike has a special frame (monocoque), designed and made in Australia, while the remaining components, disc wheels, cranks, pedals, seat, chain etc., were made by the Italian company, Campagnolo, of Vicenza, Italy. This company is also a sponsor of the Australian Olympic cycling team.

| | |
| --- | --- |
| Monocoque | The carbon fibre–polymer composite monocoque was shaped to reduce aerodynamic drag. |
| Handlebars | The conventional handlebars have been eliminated. Carbon fibre handle grips are attached directly to the wheel forks. |
| Weight | The lightweight frame (the bicycle weighs only 5 kg) provides extra strength between the seat and pedals where the main power is exerted. |
The sweeping line of the Superbike optimises the aerodynamic shape which, combined with the lightweight carbon fibre shell, requires 15 per cent less power to travel at a given speed than a conventional tubular-framed racing bike.
Place your mouse pointer over parts of the bike to find out more.
Materials
The choice of using carbon fibre technology, an area where RMIT has special expertise, was an obvious one. Carbon fibre components were already in use in other sporting equipment where lightness, strength and stiffness were crucial, for example in sailing skiffs. Thompson was determined from the outset that the product which his team created should be suitable for mass manufacturing, but at the same time it should have exceptional quality and precision.
The use of carbon fibre construction enables any shape to be formed. Maximum strength is achieved with a minimum amount of material. Carbon fibres have excellent strength and rigidity. This is why carbon fibre is used so widely in space programs and Formula One motor racing.
Production of carbon fibres

Carbon fibres are produced by carbonising (heating to a very high temperatures, but in the absence of oxygen to prevent burning) organic fibres such as acrylics or high-strength regenerated cellulose fibres. Precise control of carbonising temperatures (up to 3000°C) determines the physical properties of the resultant carbon fibre. (Fritz, 1986: 178)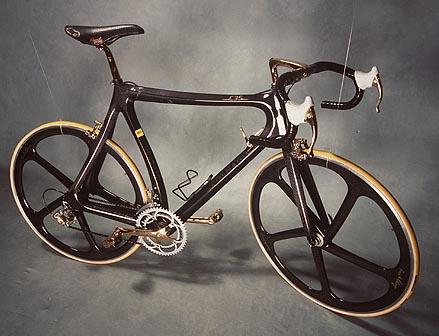 The Colnago C-35 bicycle is a hand-made, Italian bicycle, with carbon fibre monocoque frame and forks developed by Colnago and Ferrari. Known as the 'Ultimate', this unique bicycle also features gold-plated components. Powerhouse Museum Collection. It was presented to the Powerhouse Museum by Mr David Greatorex AO in 1995.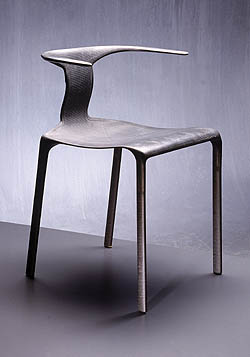 The Lightlight experimental chair demonstrates the use of carbon fabrics in an epoxy resin mould with unidirectional meshing in carbon to achieve a useful, comfortable and very light chair. It was designed by Alberto Meda and made by Alias of Italy in 1987 and is an example of one of the first applications of composite materials in the furnishing industry. Powerhouse Museum Collection. It was purchased by the Powerhouse Museum in 1989.
Activity
1. Outline the principles of monocoque construction.
2. What specific qualities does carbon fibre have that makes it appropriate for use in this application?